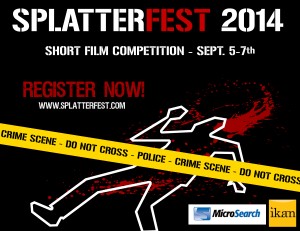 Are you a filmmaker? Want to win a GH4, see your film on the big screen, and get lots of press? Then SplatterFest is for you!
Welcome to the 2014 SplatterFest Short Film Competition and Film Festival! Filmmakers will have one weekend to write, shoot and edit a horror short film, competing for a Grand Prize of a Panasonic GH4K (Body Only). Thanks to our sponsor ikan, we will be providing some excellent prizes for 1st, 2nd, and 3rd runner up (to be announced soon).
Register your team today! Thank you for participating in SplatterFest! We look forward to a great 5th year!